The epitome of timeless elegance and masculine style, the Always Remember Cuban Link Men's Chain! The message card says it all! Help him unleash his inner confidence and make a bold statement with this exquisite piece of jewelry that effortlessly combines strength and sophistication.
Crafted with meticulous attention to detail, this chain is designed to turn heads and captivate attention wherever you go. Each link is meticulously handcrafted from premium-grade stainless steel, ensuring both durability and a luxurious shine that lasts a lifetime. The Cuban link pattern exudes a classic charm that has stood the test of time, making it a must-have accessory for the modern gentleman.
The weight and feel of the Always Remember Cuban Link Men's Chain speaks volumes about its superior quality. The substantial weight provides a satisfying presence around your neck, while the smooth finish ensures unparalleled comfort, allowing you to wear it with confidence from morning to night.
Whether he's dressing up for a formal occasion or looking to elevate his everyday attire, this chain is the perfect companion. Its versatility knows no bounds, effortlessly complementing any outfit, be it a sleek suit, a casual shirt, or even a crisp white tee. The timeless design transcends fashion trends, making it a true investment piece that will remain relevant for years.
This chain is more than just an accessory; it symbolizes his individuality and impeccable taste. Each time he sees this extraordinary chain, he'll be inspired to embrace the challenges ahead and celebrate his achievements with unwavering confidence.
Elevate his style to new heights with the Always Remember Cuban Link Men's Chain. It's not just a piece of jewelry; it's an extension of his personality that tells a story. Order yours today and let the world witness your love for him and his unyielding strength and refined elegance.
Your chain is lovingly packaged in a complimentary soft touch box for easy gifting, which features a brilliant LED spotlight.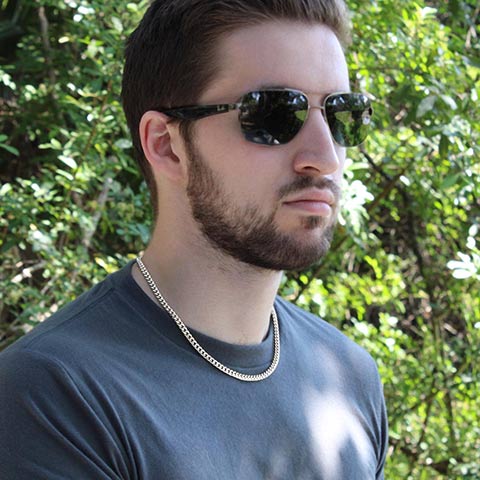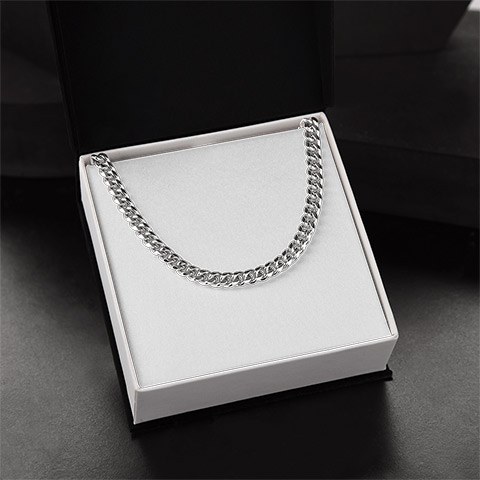 Polished stainless steel and 14k yellow gold over stainless steel
Adjustable length: 18" - 22" (45.72 cm - 55.88 cm)
Chain width: 5 mm

Weight: 28.5 grams (1.005 oz)

Parrot clasp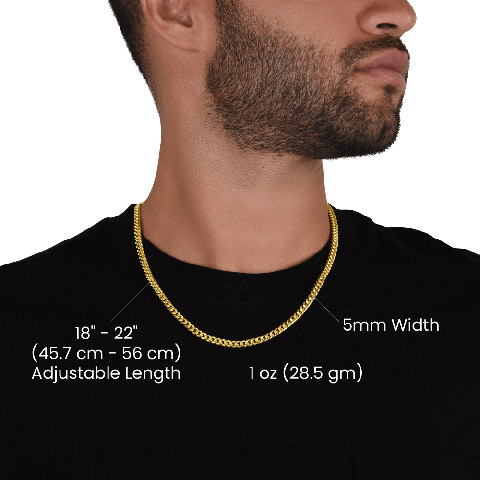 Unique, one-of-a-kind gift

NOT SOLD in stores

USA: 2-8 Business Days
Hurry! We Sell Out Frequently
Unique, one-of-a-kind gift

NOT SOLD in stores

USA: 2-8 Business Days
Each item is handcrafted and assembled with love just for you and your loved one. Due to this, please allow 2 - 5 business days for your order to ship.
Once shipped, you can expect delivery within:
USA: 2 - 5 Business Days w/ Standard (1 - 3 Business Days w/ Expedited)
Canada: 5 - 10 Business Days
UK & EU: 3 - 7 Business Days
Australia & New Zealand: 8 - 20 Business Days
Rest of the World: 5 - 10 Business Days
The epitome of timeless elegance and masculine style, the Always Remember Cuban Link Men's Chain! The message card says it all! Help him unleash his inner confidence and make a bold statement with this exquisite piece of jewelry that effortlessly combines strength and sophistication.

 

Crafted with meticulous attention to detail, this chain is designed to turn heads and captivate attention wherever you go. Each link is meticulously handcrafted from premium-grade stainless steel, ensuring both durability and a luxurious shine that lasts a lifetime. The Cuban link pattern exudes a classic charm that has stood the test of time, making it a must-have accessory for the modern gentleman.

 

The weight and feel of the Always Remember Cuban Link Men's Chain speaks volumes about its superior quality. The substantial weight provides a satisfying presence around your neck, while the smooth finish ensures unparalleled comfort, allowing you to wear it with confidence from morning to night.

 

Whether he's dressing up for a formal occasion or looking to elevate his everyday attire, this chain is the perfect companion. Its versatility knows no bounds, effortlessly complementing any outfit, be it a sleek suit, a casual shirt, or even a crisp white tee. The timeless design transcends fashion trends, making it a true investment piece that will remain relevant for years.

 

This chain is more than just an accessory; it symbolizes his individuality and impeccable taste. Each time he sees this extraordinary chain, he'll be inspired to embrace the challenges ahead and celebrate his achievements with unwavering confidence.

 

Elevate his style to new heights with the Always Remember Cuban Link Men's Chain. It's not just a piece of jewelry; it's an extension of his personality that tells a story. Order yours today and let the world witness your love for him and his unyielding strength and refined elegance.

 

Your chain is lovingly packaged in a complimentary soft touch box for easy gifting, which features a brilliant LED spotlight.




Polished stainless steel and 14k yellow gold over stainless steel
Adjustable length: 18" - 22" (45.72 cm - 55.88 cm)
Chain width: 5 mm

Weight: 28.5 grams (1.005 oz)

Parrot clasp




Each item is handcrafted and assembled with love just for you and your loved one. Due to this, please allow 2 - 5 business days for your order to ship.

Once shipped, you can expect delivery within:

USA: 2 - 5 Business Days w/ Standard (1 - 3 Business Days w/ Expedited)

Canada: 5 - 10 Business Days

UK & EU: 3 - 7 Business Days

Australia & New Zealand: 8 - 20 Business Days

Rest of the World: 5 - 10 Business Days
See what people are saying
about us